Living in South Florida certainly has its perks. Weekend getaways for tourists, business meeting hubs, and retirement areas for snowbirds. But what makes it even better for locals that are looking for peace and some exclusivity are the private islands that deliver a true tropical and Hollywood like experience.
These islands are private enclaves for the rich and wealthy that find living in an island almost like living in a billionaires bunker where they have the security and privacy of the ocean in a urban area like South Florida. They usually have boats, boat docks, seawalls and boat lifts and take advantage of great views and free access to the ocean with their boats.
Number 1 – Biscayne Point
Biscayne Point is an upscale community that stretches across three islands in the beautiful azure waters of Biscayne Bay. The community is a part of the North Beach area of vibrant Miami Beach with easy access to the mainland via two auto bridges and a pedestrian bridge. This resort-like community includes a gated entry which contributes to the neighborhood's peaceful palm tree-lined streets with little traffic. 
Due to the community's prime location, many of the residences enjoy breathtaking waterfront views of either Biscayne Bay or the Atlantic Ocean. Easy access to the ocean and Biscayne Bay makes watersports, boating, and yachting popular hobbies amongst Biscayne Point residents. Two expansive parks bookend the neighborhood and feature amenities such as dog play areas, playgrounds, and basketball courts. The community is also nearby two renowned golf courses and offers a diverse array of real estate options, including waterfront homes along with modest residences and condominiums.
Number 2 – Hibiscus Island 
Hibiscus Island is one of the many artificial islands created in the 1920s during the Florida land boom. The peaceful neighborhood is lined with swaying palm trees and beautiful tropical flora and fauna. The close-knit community is passionate about the island's preservation and privacy; many residents are a part of the local association to further these goals. A quaint and inviting park is shared between Hibiscus Island and its sister island, Palm Island. It offers amenities that include a basketball court, tennis court, racquetball court, picnic areas, and a playground.  A mix of gorgeous waterfront, dry lot mansions and villas, line the island with a variety of elevations, including modern, Mediterranean, Spanish, and European-style. Views of enchanting Biscayne Bay, the downtown Miami skyline, and luxury cruise ships coming into the Port of Miami can be seen from the homes' attractive balconies and rooftop lounge areas. Waterfront homes offer direct access into the bay with deep enough waters for private boat dockage.
Number 3 – Palm Island
Palm Island has long been a tropical retreat for the rich and famous with its exclusive location and luxurious waterfront properties. The island offers residents privacy and peace of mind with only one access point via the MacArthur Causeway and a secure guarded entry gate. An exquisite old-world Spanish-style tiered fountain and palm trees can be seen upon entering the island. 
Taking full advantage of the striking Biscayne Bay views, sunsets over the ocean, and sights of the downtown Miami skylines, many homes feature expansive outdoor pools, entertaining areas, and even rooftop lounge spots. The island is secluded yet close to all the happenings in the vibrant South Beach neighborhoods of Lincoln Road and the Art Deco District. Palm Island packages old Florida charm and glamour with modern sophistication and luxury. 
Number 4 – La Gorce
La Gorce Island is a small yet prestigious island adjacent to the La Gorce neighborhood in the North Beach locale of Miami Beach. With just under a hundred lavish properties on the island, it offers a tranquil yet refined ambiance for residents. The island is conveniently located minutes away from luxury shopping outlets such as Bal Harbor Shops and fine dining establishments along Collins Avenue. 
The highly exclusive, members-only La Gorce Country Club is also just a short drive away along the bridge connecting the island to the La Gorce neighborhood. Entry to the island is strictly guarded 24/7, and the surrounding waters of the island are patrolled by marine security boats. Many island residents are members of the La Gorce Island Residents Association, which works to ensure the continued privacy and beauty of the island. 
Number 5 – Bay Point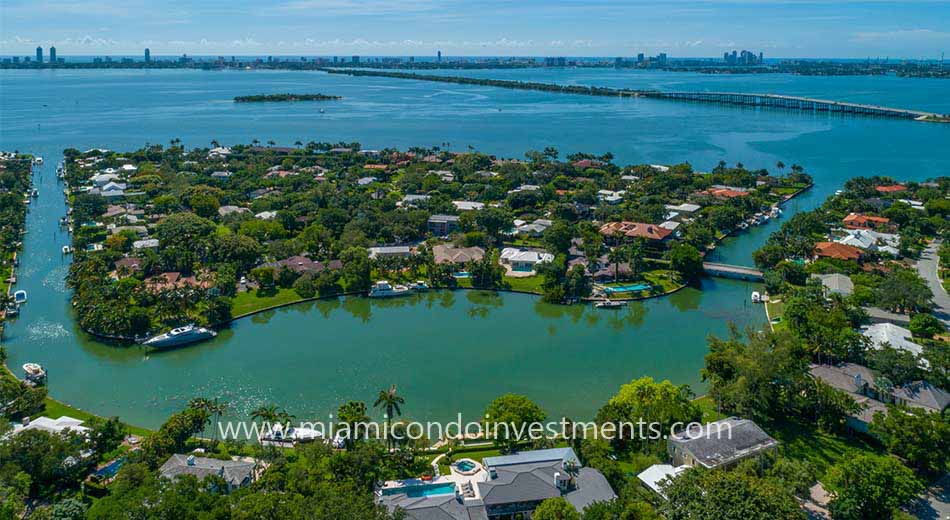 The Bay Point community is a highly prestigious and affluent enclave located in Miami's Upper East Side. This upscale gated neighborhood offers exceptional privacy and security to its residents, with gate officers and a security team patrolling the community around the clock. This community boasts one of the country's most upscale and expensive streets in regards to real estate, the famous Sabal Palm Road. With only 250 homes in the neighborhood, a Bay Point address is highly sought after by wealthy individuals, including celebrities, athletes, and business executives. 
The community includes a number of waterfront estates with views overlooking the glistening Biscayne Bay, Sabal Lake, or the Sabal Waterway.These magnificent homes have been remodeled and modernized and feature a variety of styles including ranch homes, modern contemporary, Meditteranean, and mid-century. For those seeking the convenient adjacency to downtown Miami, coupled with exclusive, secluded living, Bay Point is the perfect tropical oasis.
Number 6 – Indian Creek Island
Aptly known as the "Billionaire Bunker," Indian Creek Island is considered the most secure and exclusive island in Florida and possibly the world. This breathtaking island spans 300 acres and features forty regal waterfront estates with stunning bay  views. The island has long been an enclave for the extremely wealthy and privileged, including star athletes, entertainers, politicians, CEOs, and top celebrities.  
The island provides the highest level of security to protect residents with a thirteen-person police force, strict guarded access to the island, and 24/7 patrol of the waters surrounding the island. Only one access point is available onto the island's one street that runs the island's length. The world-renowned Indian Creek Country Club has occupied the interior of the island since the 1930s.The members-only club is highly exclusive, with a very limited and prestigious member roster. 
 Indian Creek Island's homes are lavish and opulent, exuding the highest sense of class and seclusion. 
Number 7 – Star Island
Star Island is the pinnacle of exclusivity and prestige. Located west of South Beach in the emerald waters of Biscayne Bay, Star Island offers one of the most enviable locations in all of South Florida. As an extremely private locale, Star Island has just over thirty opulent waterfront mansions and villas.
These exquisite estates sit on large waterfront lots of over an acre, and many estates have private docks for luxury yachts and speedboats with unencumbered direct access into Biscayne Bay. Each residence is an architectural masterpiece with the utmost refinement and style, flawlessly representing Meditteranean, Spanish, modern, and European-inspired designs. 
Lavish entrances, meticulously landscaped outdoor living areas, expansive pools, and posh guest houses are all standard amenities of these extravagant estates. Breathtaking 360-degree views of the downtown Miami skyline can be enjoyed from these mansions set in a tropical paradise. For these reasons, some of the most recognized celebrities, athletes, entertainers, and business elite call Star Island their home.
Number 8 – Normandy Isles
Normandy Isles is a unique fusion of a metropolitan neighborhood mixed with refined tropical island living.. Some of the island's original commercial buildings and sections have been deemed historic icons and still retain their original charm and beauty to this day. 
The island has two distinct sections. In the north portion of the island, attractive multi-family residences, condominiums, and single-family homes can be found. Many of the single-family homes in this area feature mid-century architecture from their original construction in the early 1950s and 1960s. In the south is a collection of resort-like condominiums and upscale waterfront homes. Many of these homes have direct access to Biscayne Bay and are beautiful examples of Miami Modern, Mediterranean, and contemporary architecture. 
Number 9 – Fisher Island
Fisher Island is the pinnacle of seclusion and luxury island living in South Florida and possibly the world. Boasting the highest per capita income of residents in all of the United States, Fisher Island is the ultimate destination for the globe's wealthy and elite. The 216-acre island is only accessible via helicopter, private boat, or the 24-hour car and passenger ferry that runs between the mainland and Fisher Island. 
The island has been the home to a long list of millionaires and billionaires, including famous athletes, entertainers, and business moguls. The former mansion belonging to the Vanderbilt family is now the sprawling Spanish-style Fisher Island Club. The high-end club features everything from tennis courts, a golf course, marina, spa, private white-sand beach, restaurant, and opulent hotel accommodations. Golf carts and bikes are the primary modes of transportation throughout the island's quiet, meticulously maintained roads. 
Whether desiring an extremely private waterfront estate or a posh, expansive condominium with breathtaking appointments and views, Fisher Island is the ultimate, luxurious hideaway for the rich and famous.
Number 10 – Sunset Islands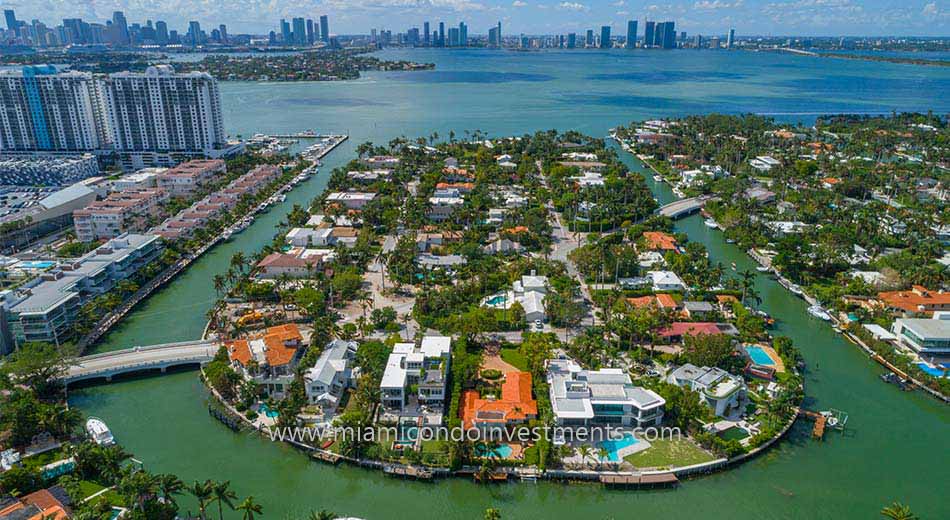 Located in the pristine waters of Biscayne Bay is a group of four man-made islands known as the Sunset Islands. These islands represent highly coveted real estate within the Miami Beach area due to the level of seclusion, prestige, and beauty the homes on these islands provide. These islands are interconnected via a series of bridges. Sunset Islands I and II are connected to the idyllic beaches of Miami Beach, and Sunset Islands III and IV are just minutes away from the hip Sunset Harbor area. 
The islands are perfect for watersports enthusiasts with direct access into the bay for paddleboarding, jet skiing, boating, and yachting. Many of the magnificent waterfront mansions and villas lining the islands' shores feature docks with deep enough waters for private boat or yacht storage.  Residences throughout the islands reflect the affluence and sophistication of the Sunset Islands. Oversized front and back yards provide ample privacy and perfect spaces for seamless indoor and outdoor entertaining. Sparkling pools, tropical landscaping, and tasteful balconies and patios are just a few of the many amenities found in the homes on the Sunset Islands.
Number 11 – Brickell Key
Brickell Key is an upscale island just minutes away from the cosmopolitan Brickell District of downtown Miami. The triangular-shaped island spans 44 acres and is exclusively made up of a mix of luxury high-rise condominium properties, a commercial office building, and an opulent hotel, The Mandarin Oriental. This 5-star hotel features a tri-level spa, multiple fine dining restaurants, and a secluded white sand beach only for guests. 
The island also boasts close proximity to offices, high-end shopping, and dining within the Brickell District.  The island is highly exclusive with a gated entry and offers everything from waterfront walking trails to a gourmet grocery market, dry cleaners, and a salon.
Many of the residences include tennis courts, state-of-the-art fitness areas, pools, valet parking, concierge services, and basketball courts. Residents can enjoy spectacular views of the Biscayne Bay and the Brickell District skyline from their high-rise tower balconies and windows. Top-of-the-line flooring, finishes, and expansive floor plans complete these luxury condominiums merging high-rise, modern living with touches of island paradise and elegance.
Number 12 – Normandy Shores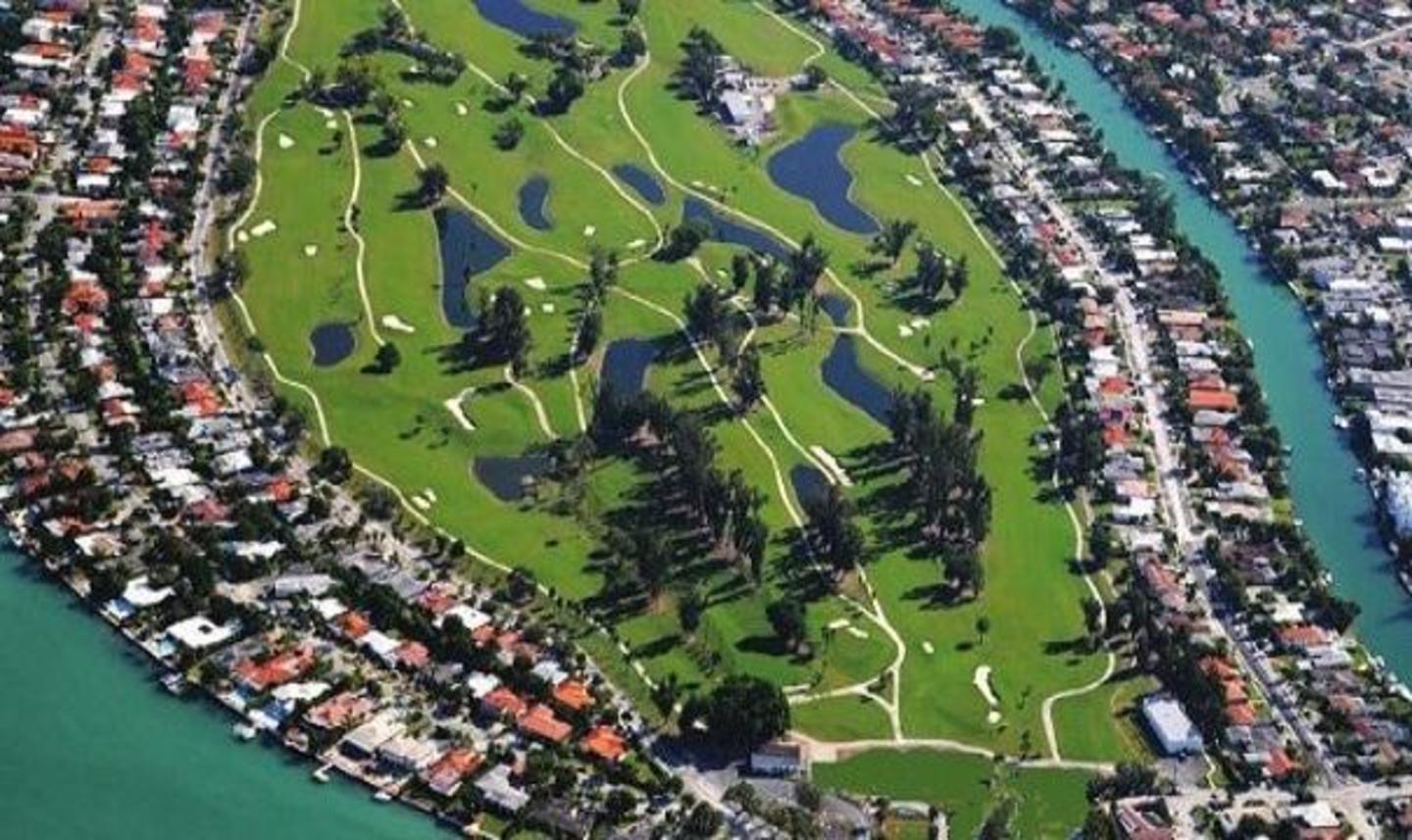 The island of Normandy Shores is a resort-style retreat with an active, affluent community centered around golf, tennis, and enjoying the South Florida weather. The island is situated near its sister island, Normandy Isles, and is close to all the best shopping and dining in the North Beach area of Miami Beach. Residents have full peace of mind, with a guarded gate exclusive to residents of Normandy Shores. 
The historic Normandy Shores Golf Club serves as the hub of the community and is a gathering place for residents. The impressive club features a challenging 18-hole golf course with waterway views, a delicious full-service restaurant, and numerous social events throughout the year. Tennis is another popular pastime on the island, with two remarkable parks offering tennis facilities and other amenities, including walking trails and sports fields. Normandy Shores offers exceptional resort-style living with a variety of real estate options for every life stage.
Number 13 – Belle Meade Island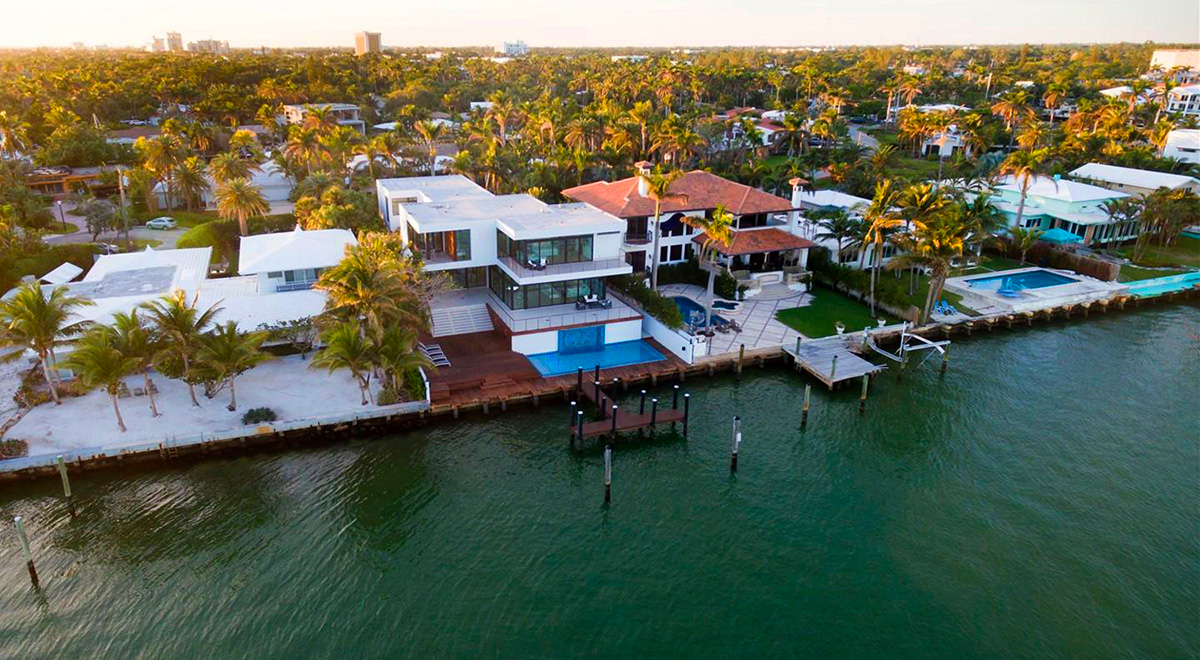 Beautiful Belle Meade Island is a distinctive L-shaped island that is a part of Miami's upper east side community. The island is located in the azure waters of Biscayne Bay, nestled right at the entrance to the Intracoastal Waterway. 
This exclusive island community features secured gated access onto the island from the Belle Meade mainland neighborhood. Upon entry, residents and guests are immediately transported to a tropical paradise with stately palm trees, lush landscape, and attractive homes around every turn. The island is a small, close-knit community with numerous waterfront and interior lot homes. The island is just a few minutes' drive to the mainland into Miami's historic Mimo District or the neighborhood's weekly farmer's markets. Residents enjoy the privacy, luxury, and stunning bay view sunsets combined with the convenient accessibility to the ocean and mainland Miami. 
Number 14 – Key Biscayne
Key Biscayne is an island town across the Rickenbacker Causeway from Miami. It is considered one of the best places to live in Florida. Living in Key Biscayne offers residents an urban feel and most residents own their homes. In Key Biscayne there are a lot of restaurants, coffee shops, and parks. Many retirees live in Key Biscayne and residents tend to be liberal The island is home to various condos and homes of which many are waterfront. Boaters are very fond of Key Biscayne as the waterfront properties are either directly on the ocean or offer direct ocean access (no bridges or long water ways). Besides boaters, the island is desired by families with kids because of its excellent public school and safety.
Last but Not least, at number 15 we have  the Venetian Islands
The Venetian Islands are a group of six artificial islands spanning from east to west in Biscayne Bay between the sparkling shores of Miami and Miami Beach. The six islands include Biscayne Island,San Marco, San Marino, Di Lido, Rivo Alto, and Belle Isle. While each island is unique in its size and community, all of the Venetian Islands provide outstanding views of the bay and a piece of South Florida paradise and luxury. 
The islands are interconnected via the Venetian Causeway, which includes a series of drawbridges to allow for sea vessel passage. The Venetian Causeway is also a perfect spot for a jog, dog walk, or bike ride while taking in the breathtaking bay views and glimpses of the regal estates on the islands. The islands are almost strictly residential with the exception of Belle Isle being home to the popular art deco-inspired hotel and spa, The Standard. Many of the islands feature posh, waterfront mid and high-rise condominium properties with exceptional on-site amenities such as tennis courts, pools, playgrounds, and private beaches. 
Opulent waterfront and interior lot estates are also common on the Venetian Islands. These mansions can often be found on oversize lots with private docks, stately entrances, tropical landscaping, and impressive indoor and outdoor entertaining areas. All of the islands provide convenient access to the artistic, vibrant cultures of either downtown Miami or Miami Beach without sacrificing exclusivity and privacy.
There you have it… these are 15 most amazing exclusive island communities around Miami.
Latest posts by Max Francisco
(see all)